Introduction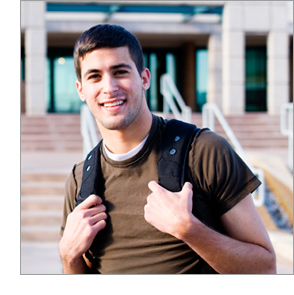 If you are daunted by the prospect of having to make student loans payments for the next ten or so years, you are not alone. Student loan debt can be fairly large, and the monthly payments may take up a big chunk of your income. However, being educated about student loans and your options can make it easier to repay them. This program will cover:
What types of student loans do you have?
Repayment plans
Consolidation & cancelation/forgiveness
Deferment and forbearance
Default
Chapter 1: What types of student loans do you have?
Knowing what types of student loans you have is very helpful, as it can affect repayment options. One important distinction is whether the loan is public (meaning the government is either the lender or guarantor of the funds) or private. There are three major federal student loan programs: the William D. Ford Federal Direct Loan Program, Federal Family Education Loan (FFEL) Program (no longer offered after June 2010), and Federal Perkins Loan Program. The Direct Loan and FFEL Programs both offer Stafford and PLUS loans. The Stafford loan is the most common type of student loan and can be either subsidized or unsubsidized. If your loan is subsidized, the government pays your interest while you are in school or a period of deferment. If your loan is unsubsidized, you are responsible for the interest as soon as the funds are disbursed – while you are in school or deferment, you can choose to either pay the interest as it accrues or have it added to the loan balance (capitalized). PLUS loans are made to parents and graduate students and are always unsubsidized. Perkins loans are always subsidized.
Private loans are made by lenders with no government involvement. They are generally not subsidized. While federal student loan holders have many options available to them under the law, such as alterative repayment plans and deferment (discussed more below), private lenders are not required to offer these options.
What if you do not remember what types of loans you have? Look for your loan documents – you or your parents should have them somewhere. Also, you can call your lenders and ask. You can access information about federal student loans from the National Student Loan Data System (contact information is in Chapter 5)
When do you have to start paying your student loans?
For Stafford loans, your first payment is normally due six months after graduating (or dropping below half-time enrollment). For Perkins loans, you are given nine months. For PLUS loans, the borrower is given the option of starting repayment either within 60 days after the funds are disbursed or waiting until six months after the student has graduated or dropped beneath half-time enrollment. (The grace period is only 45 days after leaving school for graduate students.) If you have private student loans and are not sure when repayment starts, talk to your lender.
Who should you pay?
In general, Direct loans are paid to the Direct Loan Servicing Center (contact information is in Chapter 5) and Perkins loans to the school, but this isn't always a simple question to answer, especially for FFEL and private loans. Student loans, like mortgages, are often sold by the loan originator on the secondary market. To further confuse matters, lenders sometimes hire a servicer – a third party who collects the payments. If you fell behind with your payments, it is possible that your loan was sent to a collection agency or, for federal student loans, your state's guarantee agency or the Department of Education.
Whenever a loan is sold or payment collection duties are transferred, you should be notified. If you are not sure who to pay, check your mail to see if you received a notice. You can also check your credit report or call the original lender. As discussed above, if you have federal student loans, you can find out where they are by checking the National Student Loan Data System (although be aware that information may only be updated periodically).