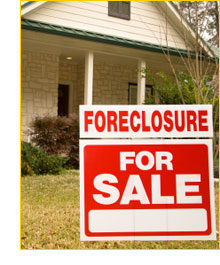 Chapter 6: Foreclosure
If you miss mortgage payments, the lender can decide to begin the foreclosure process. In California, this occurs between the 60th and 90th day of delinquency. First a document called a Notice of Default will be recorded with the County Recorder's Office and a copy of the notice will be sent to you. This notice actually starts the foreclosure process, which generally takes several months.
You may bring your loan current by making all the missed payments, late fees, and any other charges accrued. Bringing the loan payments current will cure the default and the loan will continue as if the payments had never been late. The loan may be brought current at any time up to five business days before the actual sale date. If the default is not cured by paying all back payments plus costs, or by making some other agreement with the lender, your home will be sold at auction to the highest bidder, usually the lender.

After foreclosure occurs, you will have no further options and will have lost all rights of possession and ownership to the new owner. The lender (new owner) can then proceed to evict you following normal eviction procedures just as if you were a tenant who had not paid rent. This process can be completed in just a few weeks.
Foreclosure Timeline for California
(The foreclosure timeline and process varies from state to state. In California it is generally non-judicial and done outside of the courts but some states have judicial foreclosure. Be sure you understand the correct process and timeline in your state. Our counselors may be able to provide you with information on your state.)
Day 1

You are in default on the 2nd day after your payment is due.

Day 32

You have now missed two monthly payments.

Day 32-90

Sometime during this period you will receive a letter stating that the Notice of Default(NOD) has been recorded. The speed with which lenders record the NOD depends on the policy of each individual lender.

NOD
Recorded

From this day, the next 90 days is a silent period in which you can pay lender all back payments, fees, and other charges and your default will be cured.

Trustee
Sale Date

At the end of the 90 day silent period you will receive another letter specifying the date that the Trustee's Sale will take place. This is usually 3 weeks from the date you receive this second letter.

Right
to Cure

You have until 5 business days before the Trustee's Sale to reinstate your loan (cure) by paying all payments, fees, and other costs associated with the foreclosure.

Eviction

After the Trustee's Sale you may have up to 30 days to remain prior to being evicted.